Simple pleasures
2016-07-15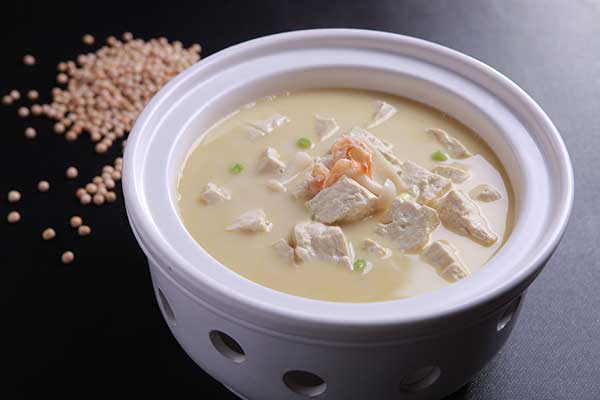 Tofu soup.[Photo provided to China Daily]
At Beijing Banquet, the ingredients get the royal treatment from a kitchen that celebratesfreshness and tradition, Mike Peters discovers.
The ripe, purple-red waxberries are bursting with sweetness in their chilled bowls-so enticingthat I fear I will get too full to eat anything else.
In the end, there was little danger of that. The onslaught of dishes that followed at BeijingBanquet, served traditionally on a lazy Susan-style tabletop that never seemed to stop turning,was just too tempting.
First came a distinctive smoked pork that was cooked so slowly it's almost gelatinous in texture.It starts with a soup based on pork fat, says restaurant group chairman Yang Xiulong, our host forthe evening.
"The recipe is 100 years old," he says, leaning forward to confide that "Jackie Chan can eat 10orders of this dish when he comes here."
Yang's bravado doesn't stop there. He tells us the waxberries are so fresh they were still on thetree in Zhejiang province this morning. The fish head and crab roe soup, he says, is so full ofomega-3 goodness that "we are really eating medicine". (With black vinegar, cilantro, springonion and finished with bean sprouts, it tastes a lot better than any cure-all my doctor would offer.)